Biktarvy Manufacturer Coupon
Offer 1
Save up to $7,200 per year
Biktarvy Manufacturer Offer
Biktarvy
With the Gilead Co-pay Coupon Card, commercially insured patients may be able to save up to $7,200 per year on their co-pay for Biktarvy.
The coupon card can be used up to 13 times per calendar year. The Gilead Advancing Access co-pay coupon card may help eligible patients save on your co-pay. It is not available to you if you are enrolled in any state- or federally-funded prescription drug program, such as Medicare Part D and Medicaid. Call 1-877-505-6986 for questions about the program.
Offer provided by:
Gilead
NOTE: This is an offer provided by the manufacturer.
To sign up for this Biktarvy offer visit the manufacturer's website. You'll want to carefully review the program details and eligibility requirements.
Offer 2
Free Discount Drug Coupon RxPharmacyCoupons Biktarvy Offer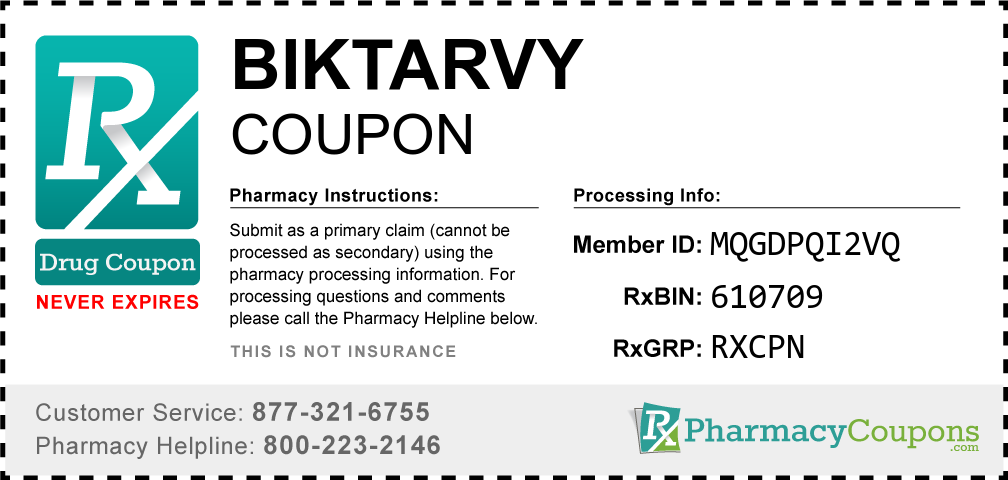 All patients are eligible to receive a discount by using this free Biktarvy coupon. Save up to 80% on your prescription costs when using our drug coupons at your local pharmacy.
Use this coupon on all
prescriptions including
Everyone is eligible and no restrictions.
No enrollment forms or membership fees.
Unlimited usage on all prescriptions.