Dyanavel XR Manufacturer Coupon
Offer 1
Pay as little as $20
Dyanavel XR Manufacturer Offer
Dyanavel XR
With the Dyanavel® XR Savings Offer, eligible patients may pay as little as $0 for their first Dyanavel® prescription, and $20 on subsequent uses.
Cash-paying patients are responsible for the first $50, and the card pays up to the maximum benefit. Offer valid for up to 6 uses. Register online to download and print a card. Call 1-844-865-8684 for more information.
Offer provided by:
Tris Pharma
NOTE: This is an offer provided by the manufacturer.
To sign up for this Dyanavel XR offer visit the manufacturer's website. You'll want to carefully review the program details and eligibility requirements.
Offer 2
Free Discount Drug Coupon RxPharmacyCoupons Dyanavel XR Offer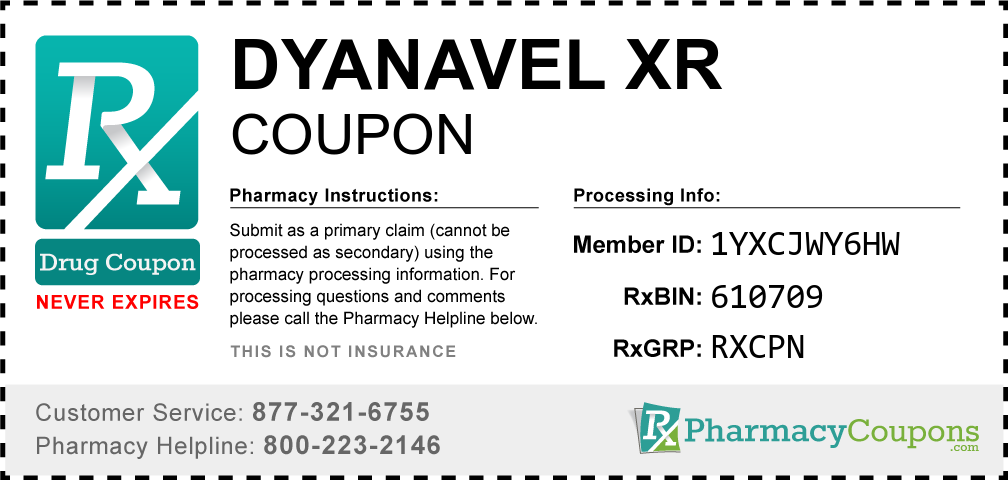 All patients are eligible to receive a discount by using this free Dyanavel XR coupon. Save up to 80% on your prescription costs when using our drug coupons at your local pharmacy.
Use this coupon on all
prescriptions including
&nbsp DYANAVEL XR SUS 2.5MG/ML
Everyone is eligible and no restrictions.
No enrollment forms or membership fees.
Unlimited usage on all prescriptions.