Fluticasone Propionate / Salmeterol Manufacturer Coupon
Offer 1
Pay As Little As $10
Fluticasone Propionate / Salmeterol Manufacturer Offer
Fluticasone Propionate / Salmeterol
Commercially insured patients may pay as little as $10 out-of-pocket for Teva's Fluticasone Propionate and Salmeterol Inhalation Powder.
This offer is not available to non-insured/cash-paying patients nor to patients eligible for prescription coverage by any state or federally funded healthcare programs.
Offer provided by:
Teva Pharmaceuticals USA, Inc.
This manufacturer offer has ended. Use our free pharmacy coupon or card and get an instant discount on your prescriptions!
NOTE: This is an offer provided by the manufacturer.
To sign up for this Fluticasone Propionate / Salmeterol offer visit the manufacturer's website. You'll want to carefully review the program details and eligibility requirements.
Offer 2
Free Discount Drug Coupon RxPharmacyCoupons Fluticasone Propionate / Salmeterol Offer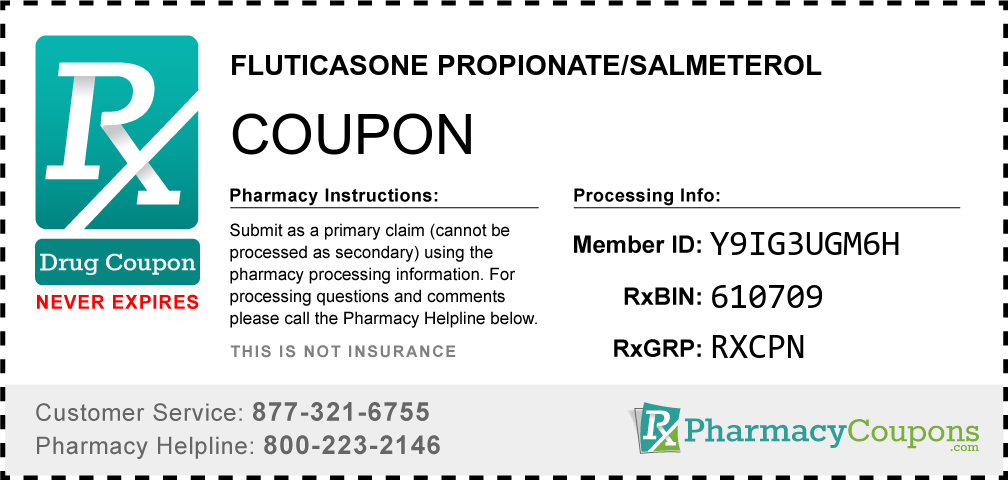 All patients are eligible to receive a discount by using this free Fluticasone Propionate / Salmeterol coupon. Save up to 80% on your prescription costs when using our drug coupons at your local pharmacy.
Use this coupon on all
prescriptions including
&nbsp FLUTICASONE INH SALMETER
&nbsp FLUTIC/SALME INH 113/14
&nbsp FLUTIC/SALME INH 55/14
&nbsp FLUTIC/SALME INH 232/14
Everyone is eligible and no restrictions.
No enrollment forms or membership fees.
Unlimited usage on all prescriptions.