Zenpep Manufacturer Coupon
Offer 1
Pay as little as $0 per fill
Zenpep Manufacturer Offer
Zenpep
With the CF Patient Support Program Card eligible patients with commercial insurance coverage may pay as little as $0 for Zenpep®.
Patients up to 24 months old receive free pancreatic enzymes. If you have any questions about the CF Patient Support Program, the customer service number is (888) 936-7371.
Offer provided by:
Actavis
NOTE: This is an offer provided by the manufacturer.
To sign up for this Zenpep offer visit the manufacturer's website. You'll want to carefully review the program details and eligibility requirements.
Offer 2
Free Discount Drug Coupon RxPharmacyCoupons Zenpep Offer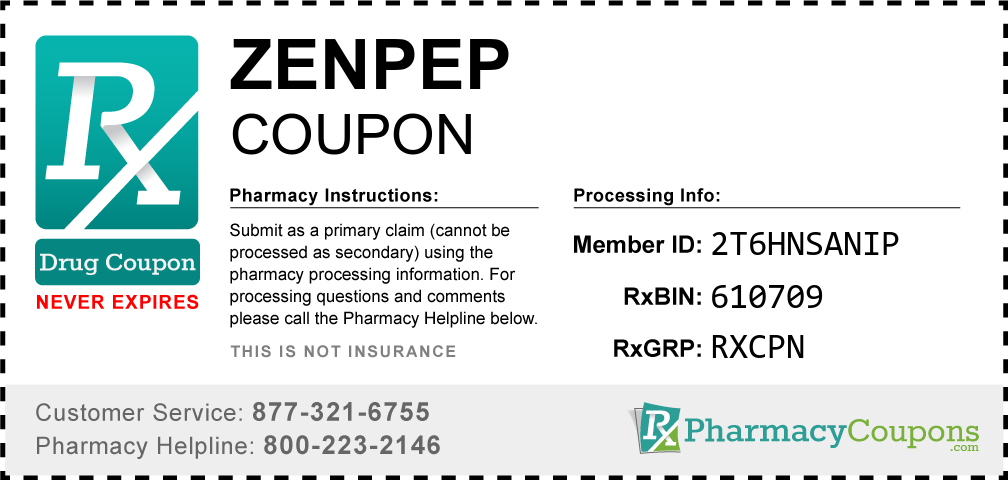 All patients are eligible to receive a discount by using this free Zenpep coupon. Save up to 80% on your prescription costs when using our drug coupons at your local pharmacy.
Use this coupon on all
prescriptions including
&nbsp ZENPEP CAP 10000UNT
&nbsp ZENPEP CAP 15000UNT
&nbsp ZENPEP CAP 20000UNT
&nbsp ZENPEP CAP 3000UNIT
&nbsp ZENPEP CAP 40000
&nbsp ZENPEP CAP 5000UNIT
&nbsp ZENPEP CAP 25000
&nbsp ZENPEP CAP 25000UNT
&nbsp ZENPEP CAP 40000UNT
Everyone is eligible and no restrictions.
No enrollment forms or membership fees.
Unlimited usage on all prescriptions.